Managing a website can be complicated and technical but taking the time to optimize your site, will help you achieve the business goals that you care about. Website optimization encompasses all of the technical and marketing techniques used to acquire traffic, engage visitors and then convert them into prospects or buyers.
People love things that are fast. The delivery speed of your takeout order. How quickly your airplane gets from point A to point B. And guess what. People love fast websites too. So whats is website performance. Website performance is the speed at which web pages are downloaded and displayed in a user's web browser. Basically, website performance tells you how fast your website is.
Why is website speed important? Well, website performance impacts your rankings in organic search, visibility on Facebook and the overall user experience of your website. There are so many factors that search engines use to rank organic results in the search engine results pages also known as the SERPs. Factors include the URL, title and header tags, inbound leaks, site architecture and you guessed it, website speed. And if you think about it, that makes a lot of sense. Search engines like Google want to offer the best experience to their users. If a website take too long to load, it will probably see a higher bounce rate and this is even more true on mobile. If Google can surface comparable web pages that have a faster load time, they will, because they're solving their users and helping them to find their answers to their questions or solve their problems faster.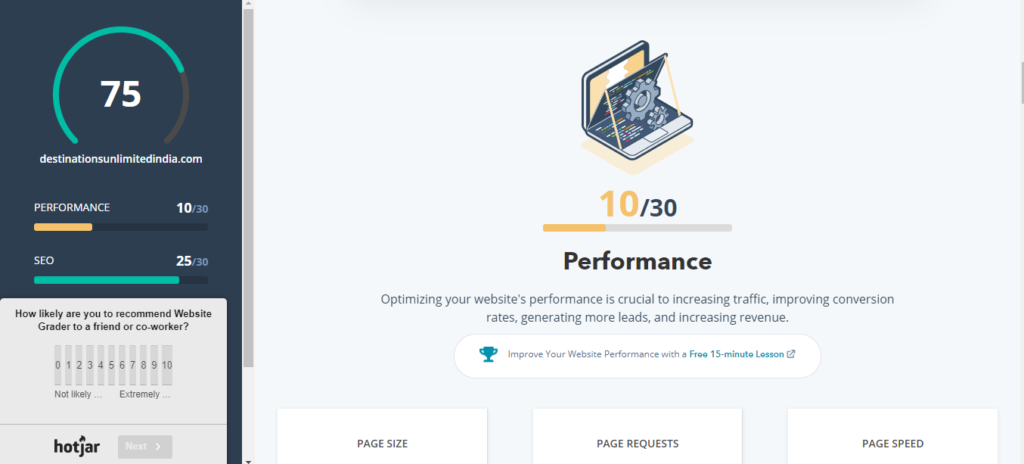 Website performance impacts the visibility on Facebook too. Facebook has always taken load speed of their content that appears on the Facebook News feed into consideration. For example, if you're on a slow connection, you'll see more text and image content than videos. Facebook also takes your website's performance into consideration in their algorithm, particularly for their mobile app users. If your post links to a slow website, it may not be displayed to people using the Facebook app as frequently. This means that you could be missing out on views, interactions and traffic. Website performance even impacts the user experience. And a poor user experience affects the website metrics that you care about like bounce rate and conversion rate.
So how quickly should a page load? Best-in-class webpages should become interactive within 5.3 seconds. Any slower and visitors will abandon your site, reducing conversions and sales. And 79% of shoppers who are dissatisfied with the performance say that they're less likely to purchase from the same site again. A slow website equals less traffic. This means that you could be losing new visitorsand repeat customers all the same time. It can be easy to think of website performance as an afterthought of the development process, or as the final step in the project. The problem with this approach is that it solves for the creative process but not for the end users. Website performance isn't just technical concern. Website performance affects the accessibility of your site, the usability of your website and your web design.
Accessibility is the availability of a website and it's contents to all people. How does performance impact accessibility? Well think about all the different ways people might be accessing your site. Some people might use text to speech or magnification functionality. Others might be accessing your site from a slower internet speed. And many will be on a mobile device using cellular networks. If your website has poor performance it becomes less accessible to everyone in a variety of circumstances.
Now, usability is how efficiently and easily visitors can see or examine your website. How does usability impact performance?  If your website or its elements take too long to load it is inherently less usable. Things like navigation, menus, vides, hyperlinks, forms, all of those things impact a website's usability. When you include these on your website you need these features to be optimized to perform their best to offer great usability.
Website design is the process of planning, ideating and organizing content for the internet. Website design isn't just how a website looks. It's how it works too. A poorly designed website can lead to performance issues later on down the road. For example, the overall layout of your website pages impacts a site's hierarchy. And the fonts that you use impact how your website performs. Your page may look pretty but if it doesn't perform, its not a good design. Think about the metrics that matter to you. Website performance impact metrics marketers care about, like traffic, conversion rates and revenue. Our device is to test your page performance regularly. Make sure that you measure, monitor and refine your website overtime. And be careful about adding too many features to your website that could negatively impact performance. Keeping performance top of mind when scoping out new projects will give you a head start because it will help designers and developers create amazing experiences that perform well on the first day.