Instagram is the hottest platform around, and everyone these days wants to know how to maximise it for their business, and it's no secret why: over one billion people use Instagram. 35% of all US adults use the Facebook-owned Instagram and more than 80% of its user base is made up of people living outside the US. Not only does Instagram have a lot of users, they're engaged. Over 60% of users log in daily & every day 80 million photos are shared.
Instagram is a full-fledged global platform, where brands can humanize their content, recruit new talent, showcase products and inspire audience.
So let's talk about ways you can find to keep your audience engaged and interested on Instagram by building  a successful strategy that will, in turn, help your business grow better!
How can a successful Instagram Strategy impact your Business?
Brands in particular love Instagram because engagement is higher, 10 times higher than Facebook, in fact, 54 times higher than Pinterest and a whopping 84 times higher than Twittter. But how do you know if Instagram is right for you?
Before businesses start using Instagram, they really need to think about the big picture, the big goal, the purpose of why they are on the platform and craft everything around that end goal. And it does build post by post. We always like to say that Instagram is essentially a digital magazine and each post is the page that you're turning that goes back to the promise that you make in your bio, which is essentially the cover of that digital magazine. Let's determine if Instagram makes sense for your business to use:
First, check to see if your competitors are using Instagram. If they're rocking the channel, that means you can, too.

Next, if your product or service is visually compelling, then Instagram is definitely a channel where you can excel. But if you sell B2B services, that doesn't mean the channel is off the table. Hubspot is a great case in point. Hubspot doesn't have a tangible product that you can touch & easily photograph, but there's a good reason that 132,000 people follow them on Instagram. They showcase company culture, they share industry news or mindblowing stats their followers love.
Are your customers on Instagram?
First you need to know who your ideal buyer is. If you already have buyer personas & other marketing strategies in place, you can draw from those to help. Some factors to consider when narrowing down your target. Instagram audience are age, location. gender, income, interests, motivations and pain points.
Don't know where to start?
Monitor popular event & interest hashtags that are related to your business. Find out who is using and engaging with the hashtags and check out their profiles. You can also take a look at your competitor's followers.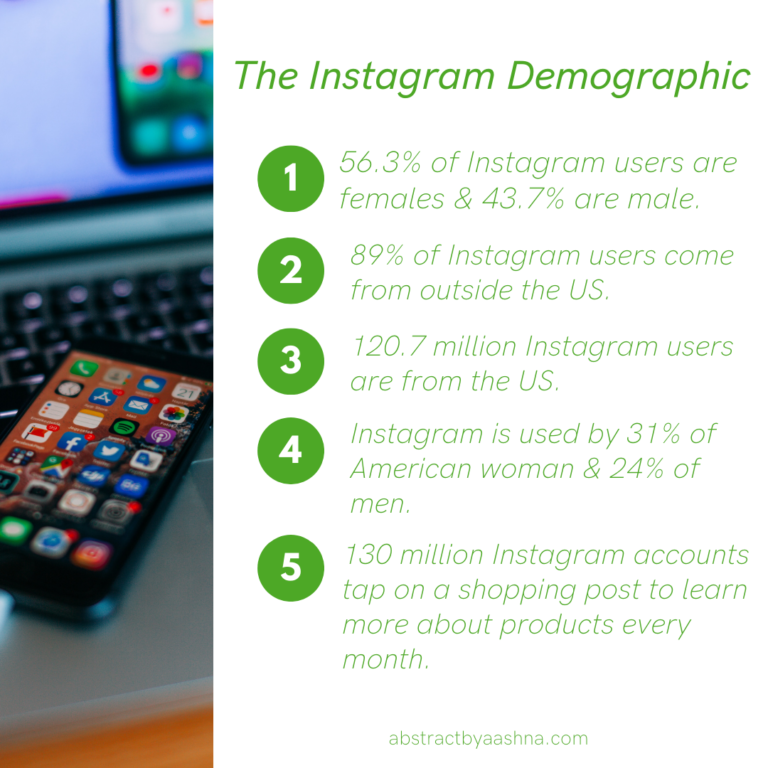 Think about your buyer persona & take a look at these stats to help you see if the demographic you're targeting is the part of the mix. Then you need to ask yourself, am I mobile-friendly? Since Instagram is accessed primarily from mobile devices, your links to landing pages need to be optimized for mobile. And finally, consider how your business goals will align with your goals for Instagram. If your goals are increased sales, but you're a B2B company, that might be harder for you than a B2C company that can take advantage of advertising that allows a user to purchase directly.
To better understand if Instagram is a fit for you, let's look at the best ways to use Instagram to market your business. You can also use Instagram for some clickthroughs to landing pages, but that's limited primarily to one link in your bio, in Instagram stories for business accounts that have over 10,000 followers and for advertisers. So keep that in mind if driving traffic & clickthrough rates are important to your business.
After you determine your Instagram audience , do a competitive analysis to see what other marketers in your filed are posting. If you are already know your top competitors, start with searching for their Instagram profiles, if not, try searching for terms related to your business or industry to find similar accounts. Conduct a quick audit of related accounts to see what types of posts are getting the highest amount of engagement, what popular hashtags they're using, what kinds of caption they're writing, how often they're publishing and how quickly they're growing. This information will serve as a benchmark you start growing your own account. Once you have a sense of if the channel is right for you and if your business goals can align to your Instagram strategy, you'll want to decide what key performance indicators or KPIs you want to track. Is  it increased engagement, followers? Map out these KPIs ahead of time. They'll help you make key decisions regarding content, campaign and advertising strategies.
Instagram can be one of the highest performing social platforms in your marketing arsenal, especially you are using it authentically. What do I mean by that?
I mean that when developing your plan, you shouldn't buy followers. Fake followers are less engaged & unlikely to buy more products. Quality over quantity should always be your motto in the social media world & that's true of Instagram, too.

  Should provide more than just pretty pictures. Your followers want value, information or entertainment. Try to provide a good mix of content that meets all three of those desires.

Should be consistent. Don't be a once in a while poster of pictures and don't just randomly share images or videos without a plan behind them. Your followers will appreciate consistent and cohesive content.
I am a massive fan of a company called Green Surfboards. They're a tiny little company, just a very small handful of people. They make wooden surfboards. An interesting boat building technique that they use to create these wooden surfboards. But what's awesome is that surfboards and surfing are incredibly visual. So they've focused, although they're on many different social networks, they've focused on Instagram, the visual aspects of Instagram, so they have pictures of surfboards being made in their factory. They have pictures of some of the people who come to buy or make surfboards because you can actually make surfboards with them, which is great. They have pictures of people surfing, they have pictures of them surfing, the people who make the boards actually then ride the boards. And it's just a really awesome way that they've used to generate attention about what they're are doing in a way that makes people feel like, yeah I want to be a part of that and it helps to grow.
Replying to comments quickly to further engagement & build affinity among your followers. Use trending hashtags. You can use a service Like Hashtagify to help you find relevant hashtags to your topic. Post high-quality images & video. Quality makes a difference on Instagram, perhaps more so than other social media channels. If you have beautiful, interesting content, users will engage more. Use live video & pre-promote that live video.